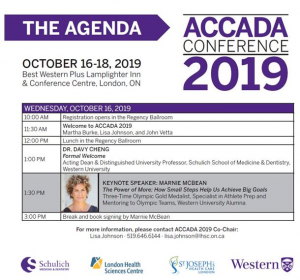 The Annual Conference for the Association of Canadian Clinical Academic Department Administrations (ACCADA) for 2019 will be hosted by Western University's, Schulich School of Medicine & Dentistry. Western University Alumna and Three-Time Olympic Gold Medallist, Marnie McBean is the Keynote Speaker on opening day, Wednesday October 16, 2019. As a Western employee, you can attend the keynote at a special rate of $125.
Registration includes hot buffet luncheon, Marnie McBean keynote address, and a copy of her book, The Power of More: How Small Steps Help Us Achieve Big Goals. Stick around after Marnie's talk and get her to sign your copy of the book. Taxes and gratuities included. This is a Professional Expense Reimbursement (PER) eligible expense.
Registration closes September 30, 2019.