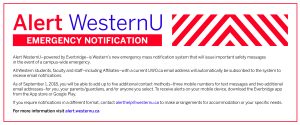 In the event of a campus emergency, choose how we contact you.
Alert WesternU–powered by Everbridge–is Western's new emergency mass notification system that will issue important safety messages in the event of a campus-wide emergency.
All Western students, faculty and staff–including Affiliates–with a current UWO.ca email address will automatically be subscribed to the system to receive email notifications.
As of September 1, 2018, you will be able to add up to five additional contact methods–three mobile numbers for text messages and two additional email addresses–for you, your parents/guardians, and/or anyone you select. To receive alerts on your mobile device, download the Everbridge app from the App store or Google Play.
If you require notifications in a different format, contact alerthelp@westernu.ca to make arrangements for accommodation or your specific needs.
For more information visit alert.westernu.ca