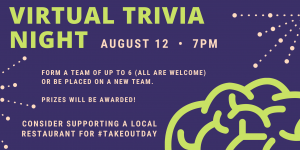 This event is open to PMA Members, your families, friends, and colleagues. When you register, through Eventbrite, don't forget to fill out the Registration Form to sign up your team or be placed on a team, and register for prizes!
Only one person from each team needs to sign up through Eventbrite, select one ticket for each team member. This event will happen online through Eventbrite, on Zoom.
More information on how to use Microsoft Teams for real-time collaboration with your team, coming soon!
May the best team win!
Dinner and trivia? Consider supporting a local restaurant for #takeoutday. Click HERE to find a restaurant near you!
If you have any questions, please contact the PMA Office.